FEATURED AUTHORS
Gordon Korman
Gordon Korman wrote his first book when he was just fourteen years old. Since then, he has written over fifty-five popular young adult and middle grade novels, including the New York Times-bestselling Swindle and its ever-popular sequel, Masterminds, Ungifted, The 39 Clues: One False Note, and Schooled, as well as the  Everest, Island, and Titanic series. Swindle was made into a Nickelodeon movie in 2013
Reviews for his latest series The Hypnotists call it "fast moving, goofball funny, and addictive".
Authors Appearing and leading workshops
Ame Dyckman is the award-winning author of Wolfie the Bunny (illustrated by Zachariah OHora), Boy + Bot and Tea Party Rules, and loves writing for children so she doesn't have to grow up. As a Kid, Ame always had her nose in a book. As a grown-up, Ame has tried lots of fun jobs ranging from teacher to costumed character, but being a children's book writer is her favorite job of all. Ame lives in New Jersey with her family, pets, and hair bow collection. 
Corey Ann Haydu is the author of several bestselling novels for teens, including OCD Love Story, Life by Committee, and Making Pretty. Her latest work is a middle grade novel (ages 9-12) called Rules for Stealing Stars about four sisters rely on each other- and a bit of mysterious magic- to cope with their mother's illness. Corey Ann grew up in the Boston area but now lives in Brooklyn, New York, where she drinks mochas and uses a lot of Post-it notes, habits she picked up while earning her MFA at the New School.
A. S. King is the author of numerous highly-acclaimed novels for teens, including the Edgar Award-nominated, Michael L. Printz Honor book Please Ignore Vera Dietz, Everybody Sees the Ants, Reality Boy, and The Dust of 100 Dogs. Her novel Ask the Passengers won the L.A. Times Book Award, and Glory O'Brien's History of the Future just won the 2015 Amelia Elizabeth Walden Book Award for Young Adult Fiction from the National Council for Teachers of English and the Book of the Year from the New Atlantic Independent Booksellers Association. Writing in the New York Times, John Green called her "one of the best Y.A. authors working today." Her latest novel I Crawl Through It (September 2015) is an ambitious teen surrealist novel already receiving rave reviews from prestigious national publications such as Publishers Weekly and School Library Journal. She lives in the Lititz area with her husband and daughters.
Betsy Lewin, a Caldecott Honor winner, grew up in Clearfield, Pennsylvania. She always loved to draw and can't remember wanting to be anything but an artist. Her mother, a kindergarten teacher, is responsible for her love of children's books. After graduating from Pratt Institute where she studied illustration, Betsy designed greeting cards. Then she began to write and illustrate stories for children's magazines. When an editor at Dodd, Mead & Company asked her to expand one of those stories into a picture book, Betsy says, "I jumped at the chance. I've been doing picture books ever since and loving every moment." Betsy's art is usually humorous, drawn in pen or brush with watercolor washes, as in Click, Clack, Moo; Cows That Type, but she also paints in a naturalistic style as in Chubbo's Pool. Gorilla Walk is her first collaboration with her husband Ted and is about their trek to see the mountain gorillas in Uganda. This was followed by five more collaborations; Elephant Quest, set in the Okavango Delta, Top To Bottom Down Under, about their adventures in Australia, Horse Song; A Story of the Naadam, set in Mongolia,Balarama; A Royal Elephant, set in India, and the soon to come Puffling PatroI, about the puffins of Iceland.
Matt London was born near San Francisco but grew up in Massachusetts, Texas, and Florida. He now lives in New York City with his wife. A 2009 graduate of the Clarion Workshop, Matt is the author of The 8th Continent series, an eco-adventure for elementary school readers. His other work has been featured in The Living Dead 2, Realms of Fantasy, Lightspeed, Fantasy Magazine, and on Tor.com. Matt recently completed his studies in the Interactive Telecommunications Program at New York University, where he taught computers to tell stories.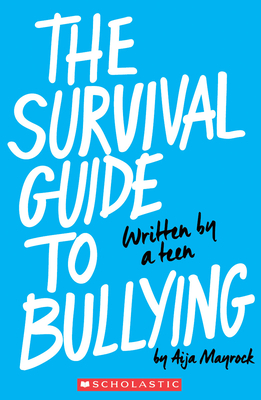 Aija Mayrock began writing The Survival Guide to Bullying when she was only sixteen, envisioning the book as her gift to the next generation of bullied kids. Initially self-published as an ebook, The Survival Guide to Bullying touches on a variety of hard issues from cyber-bullying to dealing with extreme anxiety. Aija's words are comforting as well as inspiring— she sadly knows about bullying from her own painful personal experiences in middle and high school. Aija faced merciless insults and isolation at the hands of her peers but came out of "The Dark Tunnel" a stronger person, ready to help those around her in similarly bad situations. Aija won the 2013 Silver Medal for Poetry in the Scholastic Art & Writing Award program joining the ranks of celebrated creative leaders such as Andy Warhol, Truman Capote, Sylvia Plath, Stephen King, and Lena Dunham, all of whom won a Scholastic Award when they were teens. Aija is currently in college in New York City. Her dream is to give a voice to the voiceless through art.
David Potter grew up in Morris County, New Jersey, where George Washington spent the winters of 1777 and 1779. He has at one time or another lived in West Virginia, Washington, DC, Denver, Venezuela, London, Paris, Miami, and Brooklyn. He currently lives in Pennington, New Jersey, with his wife and two sons. He was inspired to write The Left Behinds while taking his children to the annual Christmas reenactment of Washington's Crossing the Delaware. Although he has been writing for many years, The Left Behinds is his first published novel. The adventures of his time-traveling heroes, Mel, Bev, and Brandon will continue in Books 2 and 3 of the series. Book 2 will be appearing in January of 2016. You can visit David online at davidpotterbooks.com, on Facebook, and on Twitter at @DPotterBooks.
Alyssa Sheinmel was born in Stanford, California, but has lived in New York ever since she was six. She is the author of The Lucky Kind, The Beautiful Between, The Stone Girl, and Second Star. Her books have been called "Authentic…vivid and painfully truthful." by Publishers Weekly and "Endearing, realistic, and heart-wrenching." by The New York Post. Her newest book, Faceless, is and emotionally gripping novel about a girl who gets a face transplant is Wonder for a YA audience.  Learn more at alyssasheinmel.com.
Courtney Sheinmel is the author of the popular Stella Batts series for younger readers (ages 7 to 9), middle grade novels including All the Things You Are, Sincerely, Positively, and My So-Called Family, and a new teen novel titled Edgewater. She graduated with honors from Barnard College, part of Columbia University, and attended Fordham University School of Law. Courtney lives, works, and writes in New York City.
Author and illustrator Mark Tatulli is the creator of the hilarious illustrated adventures Desmond Pucket Makes Monster Magic and Desmond Pucket and the Mountain Full of Monsters. He is also an internationally syndicated cartoonist of the popular comic strips Heart of the City, which chronicles a fun-loving, tenacious little girl's adventures in the big city of Philadelphia, and Lio, which tells the adventures of a young boy and his pet squid. In addition to cartooning, Tatulli is an accomplished filmmaker and animator, and the recipient of three Emmy Awards. He lives in New Jersey with his wife, Donna, three children, and three nefarious cats, all of whom supply endless ideas for his books.
Bianca Turetsky is the author of the stylish Time-Traveling Fashionista books, where the main character discovers that when she tries on pieces from a special collection of vintage clothing, she is transported back in time. The series has been translated into nine languages.  After graduating from Tufts University, Bianca began working for artist/filmmaker Julian Schnabel. She managed his studio for the past 11 years and was his assistant on the Academy Award-nominated film The Diving Bell and the Butterfly. She lives in a cozy studio apartment in Brooklyn, New York, that houses her very extensive and much-loved vintage collection.